Tackling 4 More Common Questions
Here's part three of "Q&A With Kelly."
Want to sell your home? Get a FREE home value report.
Want to buy a home? Search all homes for sale.
Buy the Home You Want with a Cash Offer
In this final installment of our three-part series "Q&A With Kelly," today we'll walk you through my answers to a series of questions we commonly receive.
No. 1: "What are the best questions to ask when interviewing buyer's agents?"
"What is your strategy for finding me off-market opportunities to see?" Their answer will tell you how they're capable of exposing you to every opportunity in the market—not just the ones that all the other buyers are seeing.

"How local are you in my market?" Relationships between agents are more important now than ever. You'll want to work with someone who knows the area and the agents who work in it.

"What is your offer strategy?" Additionally, ask each candidate about their search strategies and what they recommend for your financial strategy.

"How realistic are my goals in terms of location, condition, and price?" Their answer should include what you might need to work on in order to win in this seller's market.
No. 2: "How does commission work when buying a home?"
Remember that buyers don't actually pay their agents a commission—the seller has already agreed to pay a real estate commission, and the listing agent has agreed to share that in some way with whichever agent brings them a buyer. Now, it is normal for there to be a $300 to $400 transaction fee that the buyer's agent might charge, but you are essentially getting representation for free.
" We take the data we gather and use it to cause our clients to win no matter what's happening in the market. "
No. 3: "How have you helped a client win a bidding war?"
For one, it takes guts. Recently, we had a buyer who was lucky enough to find two homes in Smyrna that they loved. We made offers on both of them in the knowledge that the buyer could simply pull out of whichever one they didn't want. We also had a great relationship with the listing agents. We didn't know one of them, but we made them both like us and made sure that they knew how easy it was going to be to work with us.
In that transaction, we offered more than the asking price, but not so much that we were negotiating against ourselves. To help sweeten the deal, we gave the sellers some easy wins that didn't cost my buyer any money. At the end of the day, the buyer ended up winning two houses, and they eventually chose the one that they truly loved. That made them feel like they were in complete control of the situation.
No. 4: "How does Kelly+Co compare to the average real estate agent in metro Atlanta?"
The biggest thing that sets us apart from the average East Cobb agent is how much we value market research, data, and education. When you meet with one of our agents, that's probably one of the first things that you'll notice; we take the data we gather and use it to cause our clients to win no matter what's happening in the market.
If you have any other questions about working with us or the real estate market in general, don't hesitate to reach out to us. We'd love to help you.
Register For Home Seller Workshop Below
Please note - if you can't make it to a date but want to focus on one of these topics, just register on the date you CAN attend and add a note in your order form.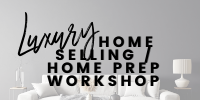 Luxury Focused Home Selling / Home Prep Workshop
Wednesday, January 20th
7:00 - 8:30pm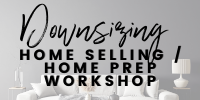 Downsizing Focused Home Selling / Home Prep Workshop
Thursday, January 28th
7:00 - 8:30pm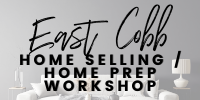 East Cobb Focused Home Selling / Home Prep Workshop
Tuesday, February 2nd
7:00 - 8:30pm