Should You Hire a Realtor When Homes Are Selling So Fast?
Here's why you still need a Realtor to sell quickly and for top dollar.
Want to sell your home? Get a FREE home value report.
Want to buy a home? Search all homes for sale.
Read About Our Covid-19 Buyer and Seller Protection Plans
Even though we're in a strong seller's market, there are three reasons you still need a great Realtor to sell your home:
1. Contracts are falling through at a higher rate than before. We're seeing roughly a 20% termination rate in contracts, and we're not the only ones. This percentage is more than double what it was last year. So yes, you will get an offer on your home, but will it stick? Well, there's a 20% chance it won't. Having a listing agent who knows how to keep deals together is more important than ever.
2. We can help figure out which offer to pick. If you get 10 offers on your home, picking the best one doesn't mean picking the one with the highest sales price. As Realtors (and especially listings agents), we know how to reduce or eliminate the risk our sellers are exposed to during the contract process. By this, we mean knowing how to negotiate little to no financing or appraisal contingencies, or knowing how to deal with appraisals when prices are skyrocketing.
"You never know how much you can really sell your home for unless you expose it to the entire market."
3. We can help expose your home to more of the market. You never know how much you can really sell your home for unless you expose it to the entire market. Imagine you have a watch to sell. You could list it on Facebook Marketplace, generate some interest, and perhaps snag a buyer. If you listed it on a watch reselling website, however, or even hired someone specifically to resell it and expose it to sellers looking for your type of watch, don't you think you'd get a higher price? Of course you would. That's exactly what we Realtors do; we make sure you net the absolute most because we know which agents are working with buyers who are looking for your type of home. We know how to expose it to every buyer and agent in the marketplace, and we know how to build a frenzy of offers and help you pick the best one.
If you'd like to know more about how a Realtor can help you accomplish all of your real estate goals or there's anything else you need help with, don't hesitate to reach out to us. We'd love to hear from you.
Register For Home Seller Workshop Below
Please note - if you can't make it to a date but want to focus on one of these topics, just register on the date you CAN attend and add a note in your order form.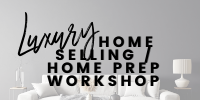 Luxury Focused Home Selling / Home Prep Workshop
Wednesday, January 20th
7:00 - 8:30pm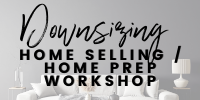 Downsizing Focused Home Selling / Home Prep Workshop
Thursday, January 28th
7:00 - 8:30pm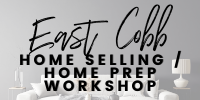 East Cobb Focused Home Selling / Home Prep Workshop
Tuesday, February 2nd
7:00 - 8:30pm