Should I Wait Until the Market Cools Down to Sell?
Here are the answers to three common questions about real estate.
Want to sell your home? Get a FREE home value report.
Want to buy a home? Search all homes for sale.
Buy the Home You Want with a Cash Offer
Today marks the beginning of "Q&A With Kelly," a three-part series where I'm answering the most common questions I'm hearing from buyers and sellers in today's real estate market.
Should I wait until the market cools down to sell my home?
This question makes no sense to me. Why would you wait until the market cools down if you're a seller in a seller's market? The only reason I would wait is if you want to make less money on your sale.
" You won't necessarily need to move twice in this market."
Can I still sell my home if I don't have a place to move into yet?
If you're like a lot of sellers, you might be hesitant to sell because you don't have a place to go. Here's my advice: Sellers who prioritize cashing out the most equity they can possibly get are selling right now, whether they have a place to go or not. This doesn't necessarily mean that you need to move twice.
For my sellers who are in this situation, I'm helping them cash out their equity and negotiating a longer closing or possession. A recent seller was able to close in 30 days and stay in their home for an additional 60 days rent-free to find their new home. So the answer is yes, but you need a good strategy in place.
If our home is going to sell within a week, why would I pay a full commission?
This is a great question. Frankly, if I were not in real estate, I would be asking the same thing. The hard part isn't getting the offer. The hard part is getting the offer to close. Realtors are earning their money by putting together a strategy for marketing your home so that it nets the most offers, the highest price, the best terms, and the lowest risk to you. If you thought that was difficult with one buyer, wait until you have 10 buyers to choose from. Now more than ever, paying the full commission for a Realtor will help you to sell faster and for more money.
I'll be back in a few weeks with another installment where I answer some more of your questions. In the meantime, reach out via phone or email with any questions you have about the market or real estate in general. I look forward to hearing from you soon.
Register For Home Seller Workshop Below
Please note - if you can't make it to a date but want to focus on one of these topics, just register on the date you CAN attend and add a note in your order form.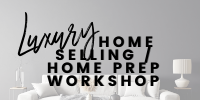 Luxury Focused Home Selling / Home Prep Workshop
Wednesday, January 20th
7:00 - 8:30pm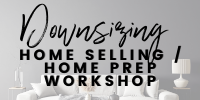 Downsizing Focused Home Selling / Home Prep Workshop
Thursday, January 28th
7:00 - 8:30pm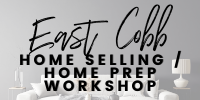 East Cobb Focused Home Selling / Home Prep Workshop
Tuesday, February 2nd
7:00 - 8:30pm