Q&A: Rising Rates, Commission Costs, and OpenDoor
Here's the second installment of our latest Q&A series.
Want to sell your home? Get a FREE home value report.
Want to buy a home? Search all homes for sale.
Buy the Home You Want with a Cash Offer
You had more questions, so we're back with more answers! Here's what you wanted to know:
How Much Does It Cost to Hire a Realtor When Selling Your Home?
That's a great question; while I can't speak for everyone in the business, I'd be more than happy to explain what we charge for commission. Depending on the situation, that can be as little as 0% and as much as 6%. So what does that mean?
We charge 0% when you find your buyer and don't want our help with the paperwork and negotiations. It goes up to 1% if you just want us to help with the transaction and paperwork part of selling. Then it's 4% if there's no cooperating broker involved, and finally, 6% if there's a traditional cooperating broker involved.
What's the Difference Between Selling to OpenDoor and Selling with a Realtor?
There are a handful of differences. First of all, if you're selling to OpenDoor, Zillow, OfferPad, or any other similar company, it means that your No. 1 priority is selling quickly—not netting the most money. We've noted that the sellers who choose not to expose their home to the market are settling for about 15% to 28% less than what they could've gotten had they gone the traditional route with a Realtor.
" When rates rise, the first thing we'll probably see is the lower end of the market completely fall out. "
Now, not everyone has the ability to go the traditional route, but it's worth pointing out how significant that difference is. That's not to mention the fees you'll have to pay when you use a company like OpenDoor—anywhere from 7% to upwards of 12% of the sale price. Even if you're in a pinch, it's still worth exploring all of your options.
What Happens to the Real Estate Market If Mortgage Rates Rise?
The question is not if but when. So, let's play this out: When rates rise, the first thing we'll probably see is the lower end of the market completely fall out. Those first-time buyers who are counting every penny will be priced out of the market.
Unfortunately, buyers' purchasing power will decrease in every segment except for the luxury market. That means they'll no longer be willing and able to pay the premium prices that have characterized our market for months. So prices will have to pull back in response, if only by a little bit.
Hopefully you found these answers helpful. Stay tuned for part III of our "Q&A With Kelly" series and, as always, reach out with any real estate needs you may have. We'd love to hear from you soon!
Register For Home Seller Workshop Below
Please note - if you can't make it to a date but want to focus on one of these topics, just register on the date you CAN attend and add a note in your order form.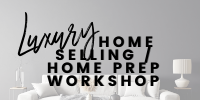 Luxury Focused Home Selling / Home Prep Workshop
Wednesday, January 20th
7:00 - 8:30pm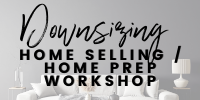 Downsizing Focused Home Selling / Home Prep Workshop
Thursday, January 28th
7:00 - 8:30pm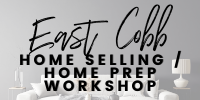 East Cobb Focused Home Selling / Home Prep Workshop
Tuesday, February 2nd
7:00 - 8:30pm