Avoid Buyer's Remorse in This Market
These strategies will help you avoid buyer's remorse.
Want to sell your home? Get a FREE home value report.
Want to buy a home? Search all homes for sale.
Buy the Home You Want with a Cash Offer
Here are five strategies to avoid buyer's remorse in this market:
1. Set a budget and stick to it. In this emotional, fast-moving market, it can be easy to think, "Well, it's just a few more dollars per month." However, you need to set a budget that's comfortable and allows you to live the lifestyle you want. If anything, you should shop a little below your budget so that if you have to bid up to get the home you want, you're still near your target budget.
2. Understand what your must-haves are and stick to them. Don't compromise on your must-haves! Which location or condition do you want? Which price point do you want to stay in? Everything else is a 'would-like-to-have,' or not a necessity.
" The pain of your current living situation has to be greater than the pain of buying in this market. "
3. Keep in mind how long you'll be in your next house. If you're going to be in the house for 10, 15, or 20 years, paying a little more today (with these interest rates) could still equate to a great buy for you in the future. However, if that timeline still applies and you love the house but can't stand the neighborhood, remember that those feelings usually don't go away.
4. Remember why you're moving. The pain of your current living situation has to be greater than the pain of buying in this market. When you win the house you want and buyer's remorse sets in, remember why you're moving and don't let that remorse cloud your reasons behind the move.
5. Remember that you might get buyer's remorse anyway. For about 50% of all buyers out there (maybe more), their first thought after buying is, "Yes!" Their second thought, though, goes something like this: "Oh no—what did I just do? Did I overpay? Will something better or lower-priced come on the market? Will the market crash?" These thoughts will probably go through your head, but that's normal. Also, your agent will be there with you to help you stick with the facts of the situation and guide you through it.
As always, if you have questions about this or any real estate topic, don't hesitate to reach out to us. We're happy to help. Have a great day, and enjoy this market!
Register For Home Seller Workshop Below
Please note - if you can't make it to a date but want to focus on one of these topics, just register on the date you CAN attend and add a note in your order form.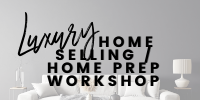 Luxury Focused Home Selling / Home Prep Workshop
Wednesday, January 20th
7:00 - 8:30pm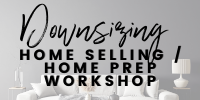 Downsizing Focused Home Selling / Home Prep Workshop
Thursday, January 28th
7:00 - 8:30pm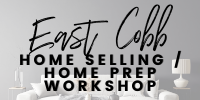 East Cobb Focused Home Selling / Home Prep Workshop
Tuesday, February 2nd
7:00 - 8:30pm