A Preview of Our Downsizing Workshop
If you or someone you know is thinking about downsizing, we'd love to tell you a little bit about our latest workshop. Keep reading to find out more.

Want to sell your home? Get a FREE home value report.
Want to buy a home? Search all homes for sale.
For the past couple of months, we have been presenting our workshop "The Downsizing Dilemma" and people have really been responding to it. So today I want to talk to you a little bit about the workshop and why it has been so successful.
The idea for this workshop came after we were meeting with empty-nesters week after week. We realized that people who are downsizing typically have the same problems and challenges so we developed a workshop to help these clients solve the dilemma of what to do with their stuff, where to go, and how to sell their home.
First, what can you do with all your stuff? A lot of people who are downsizing not only have their stuff but other family members' stuff due to increased storage capacity. Guess what? Those people typically don't want that stuff back. You can have an estate sale, donate to Goodwill, or do a mixture. Our friend Heather from Simply Organized comes out to all of our downsizing clients' houses to sort through all their stuff and determine where it's all going to go.
After we've helped solve that dilemma, it's time to choose how you're going to sell your home. There are usually three options. First, you could sell the property to a cash investor. This will lead to a quick and hassle-free sale, but it will also give you the lowest net profit. If you have a home that needs a lot of repairs and isn't in the greatest condition, this might be the right path for you.
Another option is exposing the home to the market so all buyers and investors see it, and then sell it as-is. Again, this will limit your profit, but it will net you more than you would if you just dumped it to one investor.
Around 90% of our sellers go with the third option, which is a traditional home sale. We begin with a pre-listing inspection, facilitate any deal-killing repairs, bring in our declutterer and our home stager, and use our 14-point marketing strategy to expose it to the market. This is how you net the most out of our sale.
Finally, the third dilemma: Where are you going to go? Nobody wants to be homeless, and we'll ensure that won't happen. Once you're serious about selling, we'll help you look through all the great options available to you in the market today to find something that suits you so that you can move right in after you sell your current home.
In a nutshell, this is what our workshop is all about. If you're interested in learning more or someone you know is downsizing and could use some advice, click the link below get registered. We look forward to hearing from you soon.
Click here to RSVP!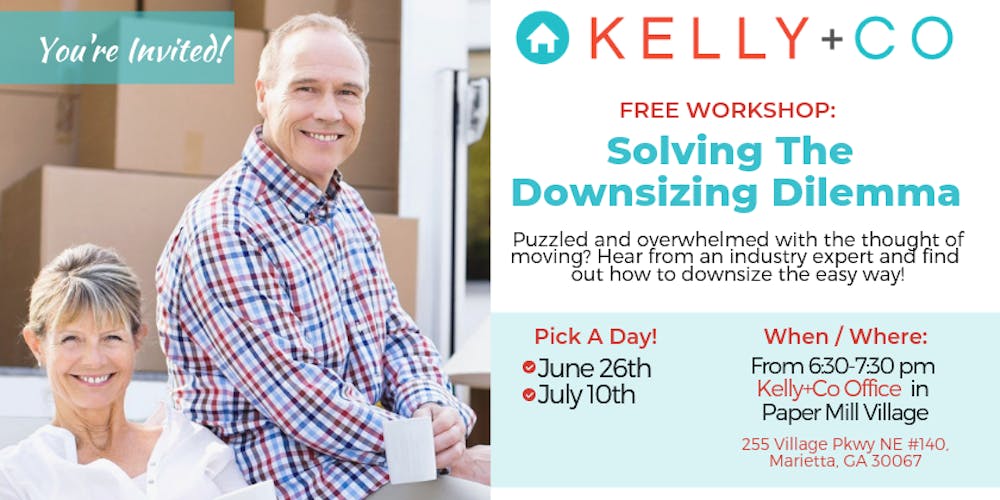 Puzzled and overwhelmed with the thought of moving? Hear from an industry expert and fin...