A Great Program for Homeowners in This Competitive Market
Here's how we help our clients buy and sell homes with less hassle.
Want to sell your home? Get a FREE home value report.
Want to buy a home? Search all homes for sale.
Buy the Home You Want with a Cash Offer
One struggle that so many of our buyers have is the fact that they need to sell before they can purchase their next home. How can you do that in this crazy market? We have a solution.
It's called our "Buy with cash" program. Essentially, we turn your loan into a cash offer, which right away makes it 3x more likely to get accepted. It's a simple process that's as easy as getting pre-approved for the mortgage.
The process goes like this: Get pre-approved for a mortgage, make an all-cash offer with our help, win the home, move into the home, list and sell your old home, then buy back your new home from us.
"Reach out today to learn more about the process."
If you have any questions about this process, I'd be happy to send you all the details that will make the explanation very simple. There's a small fee associated with this process, but I can promise you that the fee far outweighs the inability you'll have to compete in today's market without this kind of program.
If you have any other real estate-related questions, don't hesitate to reach out via phone or email. I look forward to hearing from you soon.
Register For Home Seller Workshop Below
Please note - if you can't make it to a date but want to focus on one of these topics, just register on the date you CAN attend and add a note in your order form.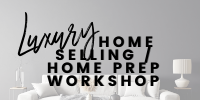 Luxury Focused Home Selling / Home Prep Workshop
Wednesday, January 20th
7:00 - 8:30pm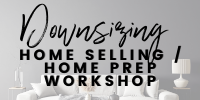 Downsizing Focused Home Selling / Home Prep Workshop
Thursday, January 28th
7:00 - 8:30pm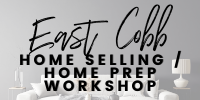 East Cobb Focused Home Selling / Home Prep Workshop
Tuesday, February 2nd
7:00 - 8:30pm